The Deck Project
From basic to Bougie…on a budget
Now that the temperatures are positively autumnal and I should be working on my Holiday marketing campaign, it's seems like a perfect time to share the deck transformation project. Don't let the pictures fool you, this took three years!
My dream outdoor space
A large blank canvas
It was love at first sight with my 19144 bungalow. If the carved antique door and mature lilac in the front yard didn't seal the deal, the huge deck definitely did! My dream house included multiple outdoor living zones, dinging, lounge, and pool area. This deck had enough space for all of them….I was sold!
Problems started immediately
This comes as no surprise to anyone who has ever bought an old house…but the problems became apparent very quickly. The deck boards looked new and the inspection revealed two deck posts that would need to be replaced in the next few years, not a deal breaker. The deck started sinking right away. Thinking it was only the posts on the end, 4 feet of the deck was cut off and I thought the problem was solved. The lumber was used for the Privacy wall on the other side of the deck, so it seemed like a win/win.
building the wall
Privacy is essential for a garden….I promise I don't hate my neighbors! I don't know about you, but I just can't relax if I know people can see me. I didn't like how the deck was visible from the street so a huge privacy wall was the answer! The cuttings from the other side of the deck were used. Faux boxwood and curtains make the space extremely private and cozy!
Finishing the deck
It was finally time to fix the deck this past summer. I could not afford to replace all the posts and rebuild the deck the same as it was. So I decided to go for a multi level deck. My very kind and patient boyfriend helped rip it up, remove the posts, and built a ground level deck. I ended up loving it even more than the original! It's easier to get in and out of the pool and increases privacy (essential!). We use the pool every single day in the summer. It's a simple intex metal frame pool, but the gazebo provides ginger-friendly swimming. I'm already yearning for summer weather…
An outdoor paradise
Thanks for checking out my favorite project to date! I absolutely love hanging with my family and hosting friends in this space. The bathroom is next!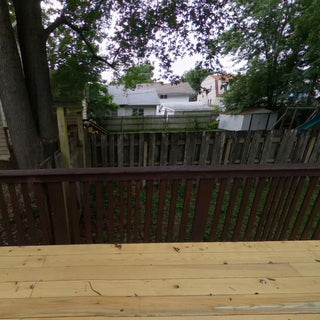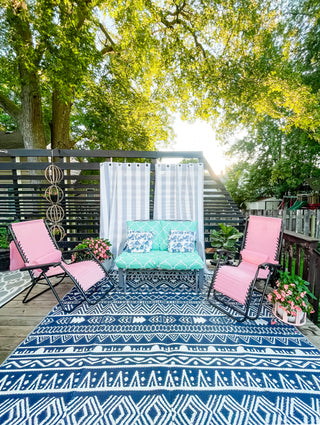 shop the look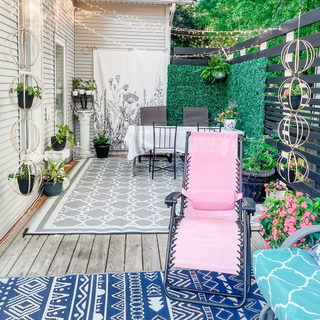 Bring the look indoors:
After extensive product testing during a summer with an insane amount rain and storms, I recommend these products be used indoors or in a covered outdoor space.